A New Book Published on
Ashwagandha
THE ANTIAGING AND
NEUROPROTECTIVE ADAPTOGEN
Ashwagandha (Withania somnifera) has been a traditional herbal remedy in the Indian sub-continent since the dawn of civilization in India. It is a herb used for vigor and vitality without causing any addiction. It is often referred, most justifiably, as Indian ginseng. While the uses of this herb are very widespread within India, its recognition beyond the shores of India came only recently. While the various Withanolides, each of them touting its own benefits, are well recognized ingredients, other constituents of this herb are also increasingly studied in the laboratories worldwide. We have earlier published a book on Ashwagandha in 2000. While no single book can capture all the research on Ashwagandha within its confine, the present book serves to cater to the needs of any serious reader interested in herbal medicines on the chemistry and pharmacology.
Book your copy at www.amazon.com today…!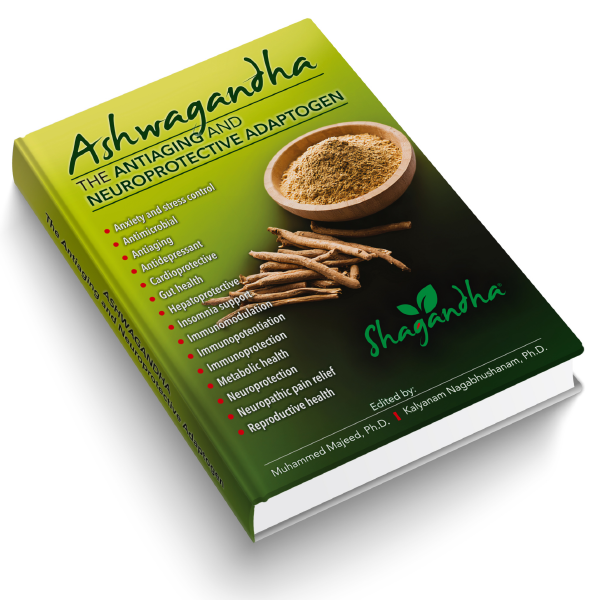 About Author
Muhammed Majeed, Ph.D.
Dr. Muhammed Majeed holds a doctorate (1986) in Industrial Pharmacy from St. John's University, New York. He has over 45+ years of pharmaceutical research experience in the United States with leading companies such as Pfizer Inc., Carter-Wallace and Paco Research.
Subsequent to the formation of his company, Sabinsa Corporation in 1988, he has pursued his interest in phytochemistry and pharmaceutical sciences. He has led a team of scientists, both in India & USA, and obtained 343 US and International patents so far. He is aggressively pursuing his interest in natural products and continues to develop new products for the US and International markets.
More